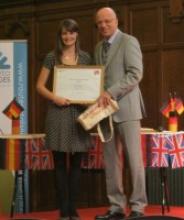 This year's prestigious German teacher award was held on Monday at Newcastle University and attended by many involved in German language teaching, not only from the region but nationwide.
The event saw guests from the Goethe Institute, the Scottish Consul General and the German Embassy in London in attendance as well as the Vice Chancellor of Newcastle University who bravely delivered his address in German, much to the pleasure of the mainly bi-lingual audience. Since 2004 the German Teacher Award has been awarded annually to three of the best German teachers in the UK. This year, Alison Low from Monifieth High School in Scotland, and Suzanne Prout, who worked for 3 years in Baxter Business and Enterprise College in Worcestershire, were both given awards for setting standards of excellence in the teaching of German as a foreign language. In addition Diane Brown, from Tomlinscote School in Surrey, received the German Teacher Award for her lifetime achievement. She has been working as a German teacher for more than 40 years.
The Cultural Attaché at the German Embassy in London, Cord Meier-Klodt, and Consul General Wolfgang Mössinger from Edinburgh had the honour to present the awards in the historic surroundings of Newcastle University's King's Hall. The Goethe-Institut's Deputy Director Uwe Rau also presented the Peter Boaks Award to Anna Griffin from London.
Celebrations continued over a German style lunch featuring Currywurst, Pretzels and Weißbier which was enjoyed by all. Guests also had the opportunity to browse a range of information stands manned by organisations including the UK-German connection and the German Academic Exchange Service. Routes and Links into languages, which promote language learning and offer support for language teachers helped to organise the event and hosted an afternoon seminar entitled 'Defending and Resourcing German' which was well attended by a wide range of people involved in German language teaching. The seminar sparked enthusiastic debate on the importance of German and indeed all foreign language teaching in the UK and how best to preserve and promote it in the face of government cuts and a declining uptake at GCSE and A-Level. If readers would like to get involved or add to that debate then please join the wall of language campaign at http://www.walloflanguage.org.uk/ or voice your opinions at www.all-languages.org.uk.
Newcastle University and Routes and Links into Languages are grateful for all the support which went into making this day such a success.
To see the Vice Chancellor, Professor Chris Brink's speech in German click here: http://www.youtube.com/watch?v=N-RB5n6aryI.