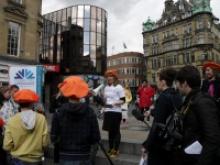 Geordies are the most likely tourists to try and speak a foreign language while on holiday.
In a nationwide poll conducted by low fares airline, easyJet, more than 74 per cent of people from Newcastle confirmed that they attempt the basics of the local lingo when it comes to saying hello, asking for directions and when ordering a drink at the bar.
 Routes into Languages and easyJet teamed up to provide translation cards for useful holiday phrases in French and Spanish. These will be available on flights departing from Newcastle Airport to French and Spanish destinations. Routes North East also delivered a mass languages lesson from Grey's Monument in Newcastle city centre. (<-Click on the link to see the clip.) 
Sophie Dekkers, easyJet's commercial manager, explains: "We're an airline that wants its passengers to get the most out of their chosen destination and we were really encouraged by the enthusiasm shown by people in Newcastle when it came to learning the local lingo for their summer holiday."
Ruth O'Rourke, project manager at Routes into Languages, continues: "A little language goes a long way. We know that linguists are more successful in the job market in terms of employment and salary, are great communicators, we are apparently more attractive to other people and there are even health benefits."
Dr Susanne Sorensen, head of research at Alzheimer's Society, added: "We recommend that people stay socially activeas this can help reduce your risk of developing dementia. There is also research to suggest that if you started learning a language early enough, this could make you less likely to develop dementia later in life."
To date easyJet, the UK's largest and best value airline, has flown more than 11 million passengers from Newcastle Airport since its arrival in 2001. It currently operates 30 flights every week to 16 destinations including, Alicante, Paris, Malaga, Faro, Nice and Malta.