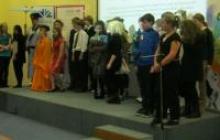 As more and more schools across the UK begin to teach their pupils Mandarin, the British Council's Mandarin speaking competition has developed over the last five years from a fledgling project to a high profile event.
On Tuesday 6th December pupils and their teachers from schools across Scotland and northern England arrived at Newcastle University to compete in the northern heats of this prestigious competition. Victory will see them through to the national final and the chance of a week long trip to China, courtesy of competition sponsors HSBC Global Education Programme. This is the third year running that Routes into Languages North East has assisted the British Council in organising the northern heats and hosting the event at Newcastle University.
The competition is for UK secondary school students and was designed primarily for non-native speaking learners of Mandarin Chinese. This was one of two regional heats (the other held in London on 16th December) leading to a national final in London in the spring. Pupils competed in both group and individual categories at various levels of ability.
The group performance section took place in the morning and saw schools from all over northern Britain compete in front of their peers and a panel of judges for a place in the final. Performances came in the form of short plays and songs featuring a variety of costumes and themes. The individual competition followed and featured pupils competing at three stages of competency. They were required to speak for 2 minutes, translate three random sentences and answer three general knowledge questions. Meanwhile, pupils not competing were given the chance to participate in three alternative activities organised by Routes into Languages North East. undergraduate Chinese students held a talk on studying Chinese at Newcastle University. Student ambassadors Clare Everett and Zhuang Qiu provided a tai chi workshop based on the skills they learned whilst in China themselves.
Finally, student ambassadors either native to or studying Chinese conducted tours of the university including visits to the university library, the Great North Museum and the Language Resource Centre where pupils were given a demonstration of the online learning resources for Chinese which have been developed there.
The day was a great success and saw skilled and enthusiastic performances from pupils of all age groups whilst also providing them with an idea of university life and Chinese culture. Competitors all left with a good chance of making the finals and the judges now have a difficult task ahead of them to choose the winners. By Nick Johnston