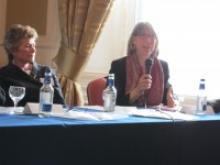 Links into Languages and Routes into Languages North East organised a highly succesful workshop on the need for language learning that was opened by Baroness Coussins on 11th January 2011 in the Royal Station Hotel in Newcastle upon Tyne.
After measuring uptake of modern foreign languages across schools in the country, the United Kingdom finds itself joint bottom of the world league tables, behind Indonesia and Mexico in terms of languages learning.
So stated Baroness Coussins as she addressed a packed hall of senior school management and language teachers at Tuesday's conference on realising the strategic importance of languages in education organised by Links into Languages and Routes into Languages North East.
Baroness Coussins of Whitehall Park, raised to the peerage in the London Borough of Islington in 2007, has long been an advocate of the need for language learning in the UK. She chairs the All Party Parliamentary Group on Modern Languages and as a cross-bencher, sees it as her role to be a 'troublemaker' and encourage the house to ensure that this country's children are given the opportunity to learn at least one language throughout their education.
She was joined at this high profile event by several other eminent figures including Richard Hardie, vice chair of global banking giant UBS and himself a linguist, Bernadette Holmes, president elect of the Association for Languages Learning, Dr. Elizabeth Andersen, head of the School of Modern Languages, at Newcastle University and representative for the University Council of Modern Languages and Dr Michael Wardle, Deputy Headteacher at Framwellgate School, Co. Durham and additional inspector for Ofsted. All spoke passionately about the challenges facing languages in schools as our education system braces itself for seismic shifts in the form of the English Baccalaureate, currently under review, and the tuition fee rises in higher education which have recently been endorsed by government.
As well as listening to the keynote speeches and questioning the panel of experts, delegates were given the opportunity to talk through their own concerns and explore ways of thinking differently about language learning in schools during workshops intended to develop strategies for schools in realising the strategic importance of languages and gain a deeper understanding of the national 'languages landscape'.
Delegates left the morning event armed with strategies for promoting language learning in their schools and with the strength and conviction of the arguments used by the panel; it is difficult to see how senior management will not have been won over to the languages cause. Delegates commented on how the inspiring and informative the event had been and, as one teacher noted, "the opportunity to discuss issues with headteacher has been invaluable and would not have happened otherwise! This will kick start our strategic planning in school."
Routes and Links into Languages are national projects to promote languages and support language teachers. As their funding comes to an end, teachers and learners of languages will look to informal networks and other institutions for continued support. If you are interested in being involved in a related project, or already participate in a similar endeavour, please contact Ruth O'Rourke 0191 222 5814/r.f.o'rourke@ncl.ac.uk