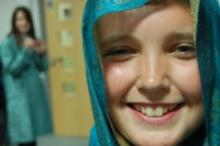 "I really enjoyed the day learning new languages and experiencing other cultures. This trip has inspired me and many others to take languages to a further level." – Elle Cropley, Irlam and Cadishead Community High School, Manchester.
As the school year closes, the wildly popular Language Enrichment Events have come to an end. Over the past few months, nearly one thousand Year 8 and 9 pupils from all across the North West have descended on our partner universities to experience community languages. They have come away with not only experiences of completely new cultures, but with a desire to continue learning languages.
"The day has taught me just how significant languages are and how important the role that they play in the world today actually is. The event has definitely persuaded me to carry on studying at least one language to A Level standard." – Nadia Younis, Sale Grammar School, Sale.
Each event consisted of a Why Study Languages talk and tasters from two of our four community languages - Arabic, Chinese, Urdu and Italian. With each language tutor a native of their particular culture, pupils were greeted with living languages rather than unfamiliar words in a textbook. Fun and involving lessons took the edge off these languages and cleared the myth of their presumed difficulty.
"I think it made me feel differently about taking a language at University because it showed me languages could still be fun. I think the whole event has encouraged me to go to University and take a language." – Abi Henshall from Ulverston Victoria High School.
The main event, however, was found in our multicultural market, a series of rooms each offering up a slice of life from the different cultures. Pupils tried their hand at Arabic belly dancing, Chinese painting and sculpture, making masks of the Italian Carnivale, donning traditional Urdu garb and henna hand painting. A few even had a lesson in Opera singing.
"My Favourite part of the day was the multi cultural market because it gave me a chance to find out about other cultures, about the world they live in and learn some of their language." - Hayley Khan, Bispham High School, Blackpool.
Each school attending was given their own Student Ambassador, who stayed with the class throughout the day, talking to the pupils, telling them about university life and the benefits of language learning. Each Ambassador was either a native speaker of one of the community languages, or is studying one of them.
"Both students and staff were buzzing after their day with you. Thank you very much for inviting us; it is especially important to us who live in rural backwaters to be able to access this sort of event." - Miriam Bailey, Assistant Head, John Ruskin School, Coniston, Cumbria.
New this year was a fabulous ipod competition for those who attended. All pupils had to do to enter was simply produce a written piece on the one aspect of their day they found most rewarding/interesting/fun and submit it to their teacher along with a photo of the event. Their teacher then selected the pick of the class and sent them to us before the closing date. We now have the daunting task of sifting through a multitude of entries to pick one overall winner and two runners up. It will be no easy assignment either, as the quality of entries has taken us all by surprise. The winner will receive an ipod touch while the two runners up each get an ipod shuffle. Winners will be announced very shortly.
"Our intake has increased because of your valuable contribution. Some of our year 10 that were taken last year are talking about doing it at college. We would love to do it every year because it has a great impact on our intake." – MFL Teacher from Burnage Media Arts College, Manchester.
All in all, this year's Language Enrichment Events were a huge success. Teachers and pupils went home satisfied, and hopefully the day will stay with quite a few of them. We are planning to expand the LEEs next year, running a set in winter and summer so please check back regularly for details. A big thank you to all who helped out and all who attended.
"Can I also thank you for that very inspirational day you put together for us, it has already had a very positive impact on our languages learners." - Fabien Massonnet, MFL Teacher, Bispham High School, Blackpool.
 
Check out more photos of these Language Enrichment Events by following the link below! 
www.flickr.com/photos/routesintolanguages/collections/72157615880336944/