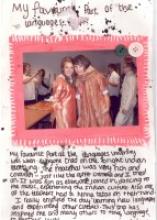 A new feature of this year's Routes into Languages North West Language Enrichment events was a fabulous new competition - local pupils who attended were asked to submit a photograph with a written account of their day.
Not prepared for the amount of entries, we spent the summer sifting through some excellent accounts. Writing about their favourite taster session, culture or ambassador, some of the entries received were creative, some were colourful and others were very inspired.
 
In the end, however, only three could be selected. It was a hard job, but we eventually chose what we think were the best. Please click on the names to see the winning entries.
Runners up, winners of 1gb ipod shuffles: Sukhveer Singh, William Hulme's Grammar School and Keely Knight, Fearns Community Sports College.
The winner of the 2008/09 Language Enrichment Event Ipod competition, who gets a 8gb Ipod Touch, was: Elle Cropley, Irlam & Cadishead Community High School.
Thank you to everyone who submitted a piece. Keep up the language learning!