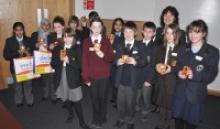 A brand new Routes into Languages initiative has tested the foreign language skills of thousands of North West school pupils, with 12 going through to represent the region at the National Final in Cambridge.
Over 8,500 school pupils from around 70 North West schools have been taking part in a new teaching initiative, which sees year 7 pupils competing to spell the highest number of words in a foreign language.
The Spelling Bee, launched on the European Day of Languages in September 2010, uses the format of traditional Spelling Bees to encourage young pupils to learn new vocabulary in French, German and Spanish.
On Wednesday 16th March the North West Regional Final was held at Manchester Metropolitan University (MMU), where 100 pupils, who had won earlier rounds of the competition, came together to fight for a place in the National Final.
Dr Sharon Handley, Director of Routes North West and Head of Languages at MMU, said: "Languages play such a vital role in education and beyond, but they are a hugely under-used resource in the UK. We hope this competition has served its purpose in teaching younger pupils the benefits of learning languages."
Twelve pupils have now won their place in the National Final, which takes place in Cambridge in July 2011. At the grand final pupils from across the country will come together to compete, determining an overall winner for French, German and Spanish.
Regional finalists came from schools across the region, including Stretford, Bury, Oldham, Lancaster, Wigan, the Wirral, Liverpool and Cheshire.
Sarah Durkin from Priestnall School in Stockport, commented: "The Spelling Bee encouraged my pupils to really learn the French alphabet. It also provided the opportunity to get my year 11s to meet with year 7s regularly, supporting them with the competition. We hope it continues in future years".
 
The winners were:
French:
1st place – Sahifa Akther, Chesterfield High School, Liverpool
2nd place – Zach Gilbert, Lancaster Grammar School, Lancaster
3rd place – Alice Fairhurst, St Peter's Catholic High, Wigan
4th place – Louise Munch, St Gabriel's RC High School, Bury
German:
1st place – Emily Pote, Wilmslow High School, Wilmslow
2nd place – Jake Stonall, The Blue Coat School, Oldham
3rd place – Kate McGranahan, Wilmslow High School, Wilmslow
4th place – Darcey Reader, Crompton House School, Oldham
Spanish:
1st place – Amna Khan, Stretford High School, Stretford
2nd place – Aaron D'Cruz, Wirral grammar School for Boys, Wirral
3rd place – Tayeba Bhamjee, Stretford High School, Stretford
4th place – Ian Jones, Wirral Grammar School for Boys, Wirral