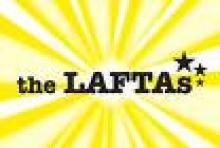 It's the moment you've all been waiting for – the LAFTAs is back! If you're aged between 13 and 21 and live in the UK, become a film star, director or producer for the day for your chance to win fantastic prizes!
To enter the competition, just make a two-minute video showing why languages are important. Fill in an application form and send your clip in to LAFTAs before February 2010 – they'll put it on our YouTube page and pass it on to the regional judges and, finally, to a celebrity judging panel. All the details are to be found on their website, see link below.
Your video can be in any style you like - from comedy to thriller! You can enter in one or more of our special categories, including this year's London 2012 theme and A World of Languages category. There are over 300 languages spoken in the UK. We're looking for clips which demonstrate the world of languages there is out there to explore. You can enter as an individual or a group.
 
If your video is shortlisted you'll be invited to a glamorous award ceremony in summer 2010 where you'll find out who'll be walking away with an LAFTA this year. Prizes include trips to France, Germany and Spain, iPod Touches and vouchers for different shops.
To view past entries, click on the following link: www.youtube.com/thelaftas
With the North West being such a culturally diverse place, we really encourage you to enter this competition. It would be fantastic to see someone from the North West win the LAFTA Award!
For more information on this competition, visit www.languageswork.org.uk/laftas