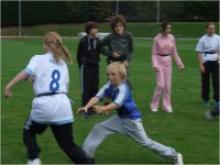 We have been working closely with 10 schools in the region who are involved in our Active Languages project. Each school has designed and developed their own activities combining language learning with sport – some examples include orienteering in German and handball in Spanish. Many of the schools are using students in Year 10 and above as Language and Sport leaders to lead younger students in various activities.
As a celebration for the hard work students and teachers have undertaken so far we welcomed schools back to University of Birmingham's beautiful Edgbaston campus for an Olympics themed sports day. Pupils took part in Judo in Japanese and had a go at Tag Rugby in Italian during the morning sessions and worked in teams in the afternoon to produce Olympic bids for various French speaking cities around the world.
Routes into Languages Assistant Programme Manager Jess Hawkins was on hand to judge the bids and award bronze, silver and gold medals and other prizes to the top three teams. She said:
"The day I spent in the West Midlands was just brilliant. The young people obviously really enjoyed both the day and learning new languages. Connecting the languages with sports played in those countries was such an effective way of bringing languages to life. I thoroughly enjoyed the day and so much effort went into the fantastic presentations that picking a winner was really tough!"
With the London 2012 Olympics just around the corner, and right on our doorstep, Routes into Languages West Midlands is committed to promoting the link between sport and languages to ensure our students are well equipped for life in an increasingly international world.