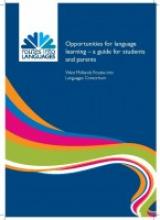 Language curriculum mapping carried out in the West Midlands by Routes into Languages identified that students in KS3, 4 and 5 are taking an increasingly diverse range of language courses and qualifications within a wide variety of curricum and extra curricular delivery models. This diversity has an impact on both the type and level of accreditation being achieved by learners, and on their experience of language learning.
Universities are also beginning to broaden the range of opportunities for language learning, which potential undergraduates may not be aware of. We feel it is important to ensure that Sixth Formers, and those who advise them, are provided with up to date information on the options available.
The booklet contains an outline of the different options givinging specific examples and illustrative case studies. The Teachers' Notes which accompany the booklet give some ideas about how to use this resource to help communicate the message to Sixth Form students in the process of making their future study choices.
Copies of the booklet and Teachers' Notes are being sent to all schools with Sixth Form and colleges in the West Midlands in early November 2009. You can also download a PDF copy here.
We hope that you and your students find this resource useful, please send any feedback you may have to us at routes@aston.ac.uk