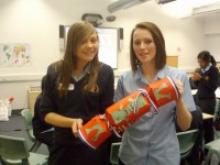 On 2nd February 2010 King Edwards Camp Hill VI Camp Hill School for Girls played host to a Dragons' Den inspired business event.
Pupils from both the girls' and boys' schools used their entrepreneurial skills to develop and market a Christmas cracker for the French market. During the morning session they learned some valuable French business language and, most importantly, learned how to do business successfully with the French.
In the afternoon they worked in small groups putting their new language and cultural awareness to the test by designing their cracker and a marketing campaign. Each group created a presentation to be delivered to an invited business expert with prizes for the best presentation.
A  teacher pack, so you can hold a similar event in school are coming soon!
The event was one of a series of events funded by Routes into Languages and delivered with support from colleagues at Coventry University, Aston University and King Edward VI Camp Hill School for Girls. If you would like to host a similar event for schools in your local area, please get in touch at routes@aston.ac.uk
 Watch the Video
Click the image to view the video.