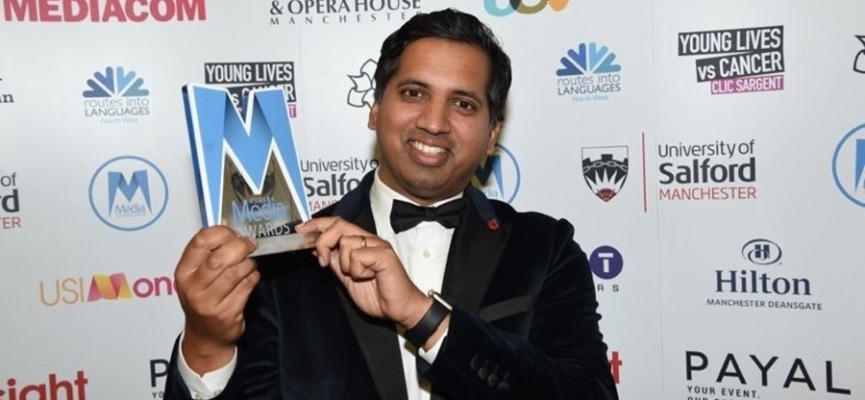 The Asian Media Awards ceremony took place at the Manchester Hilton Deansgate (Thursday October 25) attracting journalists, broadcasters and media professionals from across the country.
Routes into Languages Co-Director and Project Manager, Yasmin Hussain said, "The sponsorship continues to demonstrate our support for raising the profile of journalism to produce future talented journalists.
Both the faculty of Arts and Humanities and Routes into Languages NW are committed to raising educational attainment and achievement of pupils across the region."
The evening also saw among others BBC Breakfast's Naga Munchetty and East is East and Ackley Bridge creator Ayub Khan Din honoured.
The highly coveted 2018 MMU (Manchester Metropolitan University) and Routes into Languages Journalist of the Year category featured five broadcasters, writers, producers and reporters. Faisal was presented the award by Senior Lecturer in Multimedia Journalism and Programme leader MA Multimedia Journalism at the Manchester Metropolitan University, Andrew Dickinson.
Faisal Islam is one of the country's leading political journalists and broadcasters. He has led the broadcasters' around-the-clock coverage during the past four years of political upheaval. He chaired the first live head-to-head debate between Theresa May and Jeremy Corbyn in the 2017 General Election. The past 12 months have seen Faisal break a relentless series of stories on the progress, or lack thereof, of Brexit talks.
Using his knowledge and contacts in Number 10, Cabinet, the opposition party, Parliament, Whitehall, business, central banks, Brussels and across European capitals, Faisal has broken countless stories that have been used extensively by other media outlets – many on front pages of newspapers. In March, Faisal obtained the single most significant Brexit document leak from within Cabinet during the past year. His 'Brexit Forensics' series revealed the impact of some of the political choices of Brexit around the country.
Judges said, "Faisal has repeatedly proven himself to be an exemplary journalist. He has broken a string of exclusive stories this year, which have gone on to set the agenda, not just for other media outlets, but also in discussions within parliament.
He is clearly a talented, influential and accomplished journalist and this was reflected in the work submitted."