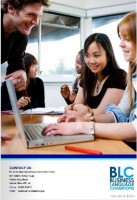 Business Language Champions Plus (BLC+) is a project which aims to demonstrate to students in secondary and further education the value of language skills in the world of work. It achieves this by bringing together employers and schools to work on project activity and offer mutual support.
The project runs from 2007 to 2011, and is delivered by RLN East on behalf of CiLT, the National Centre for Languages and Norfolk County Council. The project is funded by Norfolk County Council and the Department of Children, Schools & Families (DCSF). The project aims to form 35 employer-school partnerships, the majority of which are based in Norfolk. For more information click here: http://www.rln-east.com/blc/
In 2009 Routes East hopes to join RLN/EESA in launching BLC projects in other parts of the Region too. To read about the exciting projects that have already inspired pupils in Norfolk click here:http://www.instantflipbook.com/flipbooks/1374990242
Please contact us at Routes East (routes@anglia.ac.uk) if you would like to get involved.