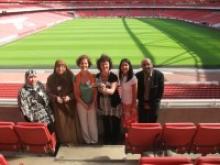 We are pleased to announce that the Teacher Training strand of the COLT project has been awarded the European Award for Languages this year. The Award is a Europe-wide initiative supported by the European Commission.
We are delighted to have received this award which provides external ratification of the excellent work done by the COLT team and, in particular, the teacher training component of the project.
We have now developed a toolkit for this part of COLT, and the teacher training framework is going to be rolled out across the East and West Midlands, London and within the North West region through the Links project. The feedback from the course participants was excellent and it is clear that this project has the potential to make a real difference nationally in terms of building the UK capacity in world languages.
The MEN Asian News have published an article about this Award!  
You can now follow us on Twitter @ http://twitter.com/COLTproject