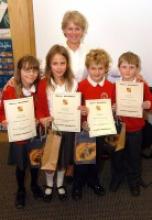 Off to a Flying Start
Friday 30th November 2007
Local primary and secondary school
pupils celebrated their success at the West Midlands Routes into Languages
launch at Birmingham
Airport on 30th November. The
pupils took part in a European Day of Languages competition (organised by Comenius
West Midlands) in September by illustrating how their language learning will
help them to become global citizens of the future.
Waterstone's donated book
tokens for all the winners and their schools. Before receiving their prizes the
pupils took part in a trail exploring the airport to find out about the
importance of languages in the workplace. Lorna McClelland from Aston Villa
Football Club spoke about how she uses languages in her role as Players'
Personnel, Welfare and Liaison Officer.
The event was part of the
West Midlands Consortium Routes into Languages launch which marked the
beginning of a three-year programme of activities designed to encourage the
take-up of languages at GCSE level and beyond. Aston
University is leading the consortium
with its partners the University of Birmingham, Coventry
University, Keele
University, the University
of Warwick, the University of Wolverhampton
and the Language Networks for Excellence. This collaboration will deliver
e-mentoring projects, GCSE revision sessions, language buddy schemes, tutoring,
residential events, oriental language emersion classes and cultural days to
secondary schools across the West Midlands.