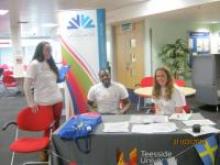 A busy but fun-packed week of language and culture has just drawn to a close here in the North East following our Festival of International Culture at the universities of Teesside, Durham and Newcastle!
Running from 31st March to 4th April, over 250 Year 8 & 9 school pupils from across the region enjoyed a fantastic programme of workshops designed to enthuse them with a passion for new languages and culture ahead of GCSE option choices. Our student ambassadors offered an exciting range of language taster sessions, which included Arabic, Chinese, German, Spanish and Welsh. The cultural sessions proved particularly popular with participants, with World Calligraphy (including Chinese, Tamil and Sinhalese) and South African Gumboot Dance led by the wonderful artists of GemArts in Gateshead.
'Fun!' appears to be the most common theme in the feedback received from pupils, whilst teachers praised the interactive nature of sessions and enthusiasm of the student ambassadors supporting the event. We hope that you all enjoyed the events just as much as all of the team here at Routes North East and we look forward to welcoming even more schools to our 2015 Festival next year.
Special thanks go to Annie Malik of Teesside University and Marcela Cazzoli-Goeta of Durham University for their invaluable support both before and during the events.
For a selection of photos from each of the days, please see below.