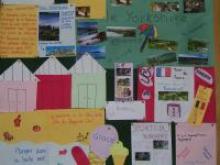 Year 9 pupils from George Pindar School, Scarborough, used their language skills to promote Yorkshire, by holding a virtual tourist fair for French visitors coming to watch the Tour de France.
To celebrate the arrival of the Tour de France in July 2014, 26 Year 9 pupils came to the University of Hull to see how they could use the French language in a day based around the tourism industry.
The pupils spent the morning creating voiceovers to see how French can be used to promote tourist destinations, whilst also learning about the vocabulary of cycling and the Tour de France. They then had a short "taster" session in Chinese, an opportunity to learn a language they'd never spoken before!
After a lunchtime tour of the campus, pupils were surprised to hear that some visitors would shortly be arriving from France to find out all about Yorkshire. Small groups were set the task of creating an exhibition to showcase the county. They certainly rose to the challenge, producing extremely creative displays highlighting the major cities, seaside towns, national parks, historical attractions and typical Yorkshire cuisine.
Frances Simpson, MFL teacher at George Pindar, was delighted with her pupils' efforts: "It was great to observe the tourism activity; it really captured their imagination! What's more, visiting a large university campus really opens their eyes to the possibilities open to them, especially if they continue with languages into higher education."
This was a Routes into Languages event, forming part of the "Languages in Context" theme running through Routes activities this year. Generous additional funding was provided by The Ferens Education Trust.