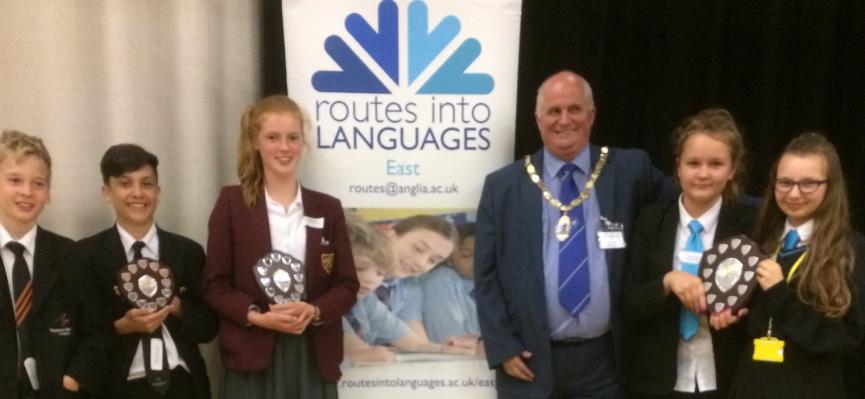 Wednesday afternoon saw 50 Year 8 pupils from seven Peterborough schools, The Voyager Academy, Ormiston Bushfield Academy, Hampton College, Jack Hunt School, Ormiston Bushfield Academy, The King's School and Ken Stimpson Community School fight it out on Wednesday in the final of the Have Your Say competition in the presence of the Deputy Mayor and Mayoress. All the students were the winners of their school competitions for which they had learnt and performed dialogues in French, Spanish, German and Urdu.
The final competition was hosted by Thomas Deacon Academy, organised by teacher, Anke de Munster, with help from her impressive band of sixth form Language Leaders and sponsored by Routes into Languages East at Anglia Ruskin University.
The instigator of the competition, Rachel Hawkes of The Voyager Academy and The Cam Academy Trust said " Speaking is, without a doubt, the most important skill in language learning, but also one which causes the most anxiety. It is exciting to see so many students enjoying speaking languages and performing at such a high level in front of an audience. "
The pupils really seemed to enjoy the afternoon, and the standard was extremely high, even higher than last year's inaugural competition. The winners' trophy went to Aleksandra Waligora and Joanna Zajac of The Voyager Academy for a lively Spanish dialogue, fluently delivered with excellent Spanish pronunciation and great expression.
The other top ten winners were:
| | |
| --- | --- |
| Milly Hilton & Katie Tasker | The King's School |
| Luca Kist Chancelier & Francisco Correia | Thomas Deacon Academy |
| Veronika Dancova & Giang Luang | Jack Hunt School |
| Aine Jones & Sara Silva Miranda | The Voyager Academy |
| Debora Aniceto Jesus & Aleshba Hussain | Thomas Deacon Academy |
| April Isham & Emily Knox | Ken Stimpson Community School |
| Jacub Piechota & Leonardo de Nuzzo | Ormiston Bushfield Academy |
| Florina Dobre & Marcia Marcelino | The Voyager Academy |
| Tyla Moore & Klaudia Konachowicz | The Voyager Academy |
Well done to all 50 competitors (and their teachers!) who were all winners to get this far and represent their schools.
Sarah Schechter, Project Manager, Routes into Languages East