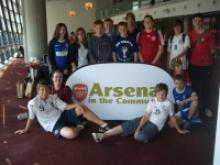 A sunny day in June saw our Routes East Stowmarket High German Double Club pupils travel down to the Emirates Stadium in London with their teacher, Jenny Turner, to take part in an exciting Goethe Institut initiative.
The Institut  has specially commissioned a song as part of the 2010 Think German campaign, written by Berlin musician Mark Scheibe, with over 250 Double Club students invited to take part in the video. The video will be released worldwide across a number of media platforms. Julie Stoker, Arsenal Double Club Language Co-ordinator wrote "With the Olympic games fast approaching, we believe the multi-lingual success of the Double Club project provides all of us with an ideal opportunity to bring sport and languages closer together and make a high profile, concerted push for the promotion of language learning over the years to come. In a year that has seen the Double Club going from strength to strength as more and more football clubs join the project and the number of participating schools increase, our Double Club music video will be a perfect chance to celebrate our past successes and look forward to an exciting future of multi-lingual cooperation".
 
The song and lyrics are downloadable here: http://www.goethe.de/ins/gb/lon/en6177579.htm All the Double Club languages (English, German, French, Spanish and Portuguese) are represented (with a Mexicam Wave at the end, of course) and the video is available here: http://vimeo.com/13192001
The song is great - really catchy and fun and the pupils had a brilliant day out
Encore Stowmarket!