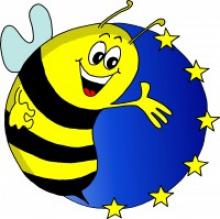 Top spellers in the England final of the foreign language spelling bee 6 July were:
Alice Pawluk for French, from Cardinal Wiseman school in West London
Emily Pote for German, from Wilmslow High School in Cheshire
Isabel Moss for Spanish, from Landau Forte College in Derby.
Well done to them and to all the 90 other finalists. The standard was high and the tension mounted as pupils competed at Homerton College, University of Cambridge.
Winning trophies were presented by our partner organisations and sponsor the European Commission, with additional support from the French, German and Spanish Embassies.
The event was assisted by a team of Language Leaders from Year 8 at Comberton Village College. Creator of the Bee, Jane Driver, language project teacher at Comberton commented on the high standard and maturity of all pupils. Rachel Hawkes, Language College Director from Comberton announced the winners. Sarah Schechter, project manager for Routes into Languages East region, Heather McGuinness, Programme Manager and Professor Michael Kelly, Director gave additional speeches and support to this first ever national final.
The second national final will be for Wales on Wednesday 13 July 2011 in Cardiff.
Congratulations.
| | | | |
| --- | --- | --- | --- |
| French | WINNER | Alice Pawluk | Cardinal Wiseman, London |
|   | 2nd | Francesca Adams | Bolton School Girl's Division, NW (but representing WM) |
|   | 3rd | Anjali Anicatt | Bolton School Girl's Division, NW (but representing WM) |
|   | 4th | Rachel Legon | Royal Alex & Albert, South |
|   |   |   |   |
| German | WINNER | Emily Pote | Wilmslow High School, NW |
|   | 2nd | Maisy Bates | Norton Hill School, SW (but representing South) |
|   | 3rd | Anny Bush | Thomas Lord Audley, East of England |
|   | 4th | Lydia Pickering | Beverley High School, YH |
|   |   |   |   |
| Spanish | WINNER | Isabel Moss | Landau Forte College, EM |
|   | 2nd | Tayeba Bhamjee | Stretford High School, NW |
|   | 3rd | Odysseus Kalantaridis | Harrogate Grammar, YH |
|   | 4th | Klaudia Wyzykiewicz | Sheffield High School, YH |