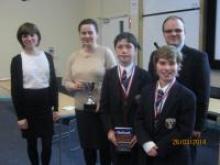 Following months of preparation, Wednesday 26th March saw almost 100 pupils, teachers, parents and supporters descend upon Newcastle University for the North East regional final of the Foreign Language Spelling Bee 2014.
Having been selected as the top-performing pupils in their schools to compete in the regional final categories of French, German and Spanish, the competitors represented the very best from amongst 3500 pupils who initially registered to take part from 26 North East schools. On hand to help with the running of the competition were our fantastic native-speaker judges and a trusty team of student ambassadors.
Nerves were running high for pupils and teachers alike as our brave Year 7 pupils – 36 for French, 13 for German and 10 for Spanish – took to the stage to test their spelling prowess in the space of just one minute. Once the top four contestants for each language had been identified, it was time to find out who would be crowned in first, second, third and fourth places here in the North East.
Thanks to Whickham School, you can hear all about the day from a pupil perspective in a BBC School News Report available here. Pupils Abbie and Ella recorded teachers, organisers and contestants alike as part of their podcast project - great work, girls!
Special congratulations go to the following pupils:
Michael King of Ormesby School – 4th place (Spanish)
Abbie Judd of St Bede's Catholic Comprehensive School – 3rd place (Spanish)
Jude Davison of Hermitage Academy – 2nd place (Spanish)
Humaira Jet of Egglescliffe School – 4th place (German)
Aminah Saghir of Egglescliffe School – 3rd place (German)
Mikey Lawlor of Royal Grammar School – 2nd place (German)
Ryan Days of Hermitage Academy – 4th place (French)
David McBride of Hummersknott Academy – 3rd place (French)
Daniel Partleton of Royal Grammar School – 2nd place (French)
Extra special congratulations go our overall winners on the day:
Emma Gray of Hermitage Academy (Spanish), Alex Dent of Royal Grammar School (German) and Daniel Thirlaway of Emmanuel College (French)
All twelve contestants in Round 2 are winners, however, and will represent their schools in the national final on Friday 4th July. We wish them every success in the next stage of the competition!
A final thank you goes to our wonderful judges Hélène Beaugy, Morgane Mazan, René Koglbauer, Luisa Grahlow, María Dominguez-Caro and María Elena García.