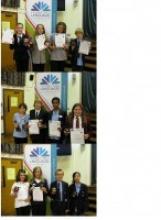 An electrifying Spelling Bee regional semi-final and final took place on Wednesday 7th July when 50 year 7 pupils gathered at Comberton Village College to fight it out for the Spanish, German and French titles. In both rounds the tension was punctuated with nail-biting tie-breakers
The Spelling Bee was devised by Jane Driver of Comberton and has caught the imagination of nearly 3,000 pupils I this its first year. It involves the year 7 pupils in learning and practising the alphabet in the foreign language, paying attention to describing letters with accents and Spelling Bee terminology ('pass', 'space' etc), with 50 words in each round. All relevant to the curriculum.
Winners in each round received certificates with the four finalists in each language also winning a trophy. A cup was awarded to each winning school.
The finalists were as follows:
Spanish
1st   Alexandra Van der Oerver     Comberton Village College
2nd  Chloe Hinton                           Gateway Academy
3rd   Lucy Booth                               Comberton Village College
4th   George Gates                         Coopers Coborn
German
1st   Lauren Dickson                      Thomas Lord Audley
2nd  Mollie Foley                              Thomas Lord Audley
3rd   Andrew Ledingham                Chafford Hundred
4th   Liza Tu                                       Chafford Hundred
French
1st   Matthew Bracey                       Swavesey Village College
2nd  Ellie-Mae Young                     Brittons School
3rd   Matthew Livesey                     Hitchin Boys
4th   Suzana Anjum                         Coopers Coborn
CONGRATULATIONS TO ALL THE WORTHY WINNERS!!!
The competition has been enjoyed by one and all and pupils have learnt a lot of useful vocabulary in a fun and motivating way – some have even expressed an interest in helping next year's competitors learn their words…
It is hoped to run it next year as a national competition - watch this space...
For more details of the competition see the wiki: http://rilspellingbee.wikispaces.com