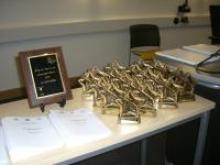 What an exciting final it was for the Routes East Sing to the Future: Language BeatZ final! Four schools were represented on the day: Comberton Village College, Birchwood High School, Hinchingbrooke School and Sawtry Village College.
The competition involves Year 8 pupils transferring language from the KS3 curriculum into catchy, memorable song lyrics, and thus practise and improve their foreign language skills (any language they are learning in school). It's all about harnessing the power of music for learning.  Music, rhythm and song make words memorable.
The project was the brainchild of Rachel Hawkes of Comberton Village College. Using the idea that  music creatively in groups for language learning is both motivating and effective, together with Routes East, she put together a project that initially just helps teachers to start using music a little in class, if they never have before and using the specially created Teacher's Pack, supports them towards working with their pupils to create songs, which can then be entered into the competition.  It certainly seems to work, judging by the 80 pupils who reached the final!
The pupils had all been practising hard and it showed. It was a nail-biting finish with 3 songs singled out by the judges, Dr Tony Morgan, Director of Routes East, Maria Weber and Sabine Mayeux (past and present Student Language Ambassadors and Comberton's Tour Gourmand du Monde and Birchwood's Spanish song were pipped to the post by Birchwood's German song. (click to listen).
The competition now moves on to the next stage with a People's Vote, ending on 21st July.
If you'd like to get involved in next year's competition, you can register at https://www.routesintolanguages.ac.uk/events/register/2495