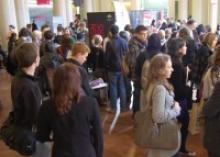 The second major National Network for Interpreting (NNI) and Leeds Routes into Languages collaborative event organised in conjunction with the University of Leeds Careers Centre took place in Leeds on 24 February 2009. As with all our events, the purpose of the day was to raise awareness of the range of varied and exciting career opportunities open to linguists and to inspire young people to continue studying languages at all levels. The event was open to regional school and university students who firstly had the opportunity to meet a number of interesting employers at our Careers Fair. These included the Foreign and Commonwealth Office, GCHQ, the Directorates General for Interpreting and Translation (European Commission) and the World Meteorological Organisation among others. The Regional Language Network Yorkshire and the Humber stand as always attracted much attention from students too. The discussion panels that followed, on careers with languages and careers in interpreting/translation, were extremely popular and gave those attending the chance to hear from employers and alumni of different universities who now work for national and international organisations, businesses, NGOs etc.
Our early estimates suggest that the event was attended by about 400 Leeds and regional university students and 40 Year 11-13 students who also took part in a special schools programme including a session on studying languages at university and interactive activities in interpreting and translation.
The event was streamed live on the NNI website and was watched by 124 people in Cyprus, France, and Germany and around the UK (in Cambridge, Leeds, Leicester, Manchester, Sheffield, Oxford and York).