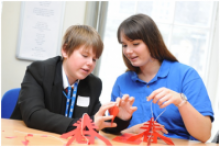 Pupils get a taste of China at Leeds Met!
School children from across the region celebrated the year of the snake at Leeds Metropolitan University during Chinese New Year in February as they learnt about Chinese culture and language.
Undeterred by sudden heavy snowfall on the day, 50 year 9 pupils, from Brigshaw High School and Language College in Castleford, Roundhay school and Wetherby High School, spent the afternoon at the University, where they had the chance to try calligraphy and paper cutting and enjoyed a taster session in Chinese (Mandarin). Current Leeds Metropolitan language students were on hand to share their experiences of university and the benefits of language learning.
The pupils learnt about Chinese culture throughout the day, whilst finding out why learning a language is so important. All schools involved are engaged in the University's Routes into Languages project which was set up five years ago to promote languages in secondary schools.
Principal Lecturer in Languages, Graham Webb, commented: "Awareness of other languages and cultures is vital to future generations if we are to maintain our position in an increasingly global commercial and social environment. By celebrating Chinese New Year at Leeds Met in the company of pupils and teachers from our partner schools, we engage them with the culture and language of over one billion people. Through language taster classes and workshops of origami and calligraphy, students are motivated to learn a new language that will promote increased trade and cultural exchanges for future generations."