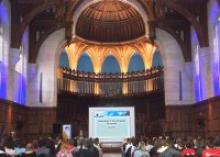 On March 16th over 200 students attended the joint NNI and NNT South
England and Wales careers conference held in the historic Wills
Memorial Hall. The event was jointly organized by the Universities of
Bath, Portsmouth and Westminster in collaboration with the University
of Bristol who hosted the event.
Presentations were given from the UN, European Commission, European
Parliament, GCHQ, ITI, and several freelance translators and
interpreters on different career paths for linguists. The conference
was accompanied by a careers exhibition made up of employers and
course providers from around the UK and Europe.
Attendees had the opportunity to meet with the speakers and discuss
their career options during the coffee break as well as participate in
a formal Q&A at the end of the afternoon.
Many students commented on how this event changed their thoughts on
future careers and the possibility of undergraduate or postgraduate
language studies with overwhelmingly positive feedback directed
towards the different guests and their presentations.
All talks are available for free download in mp3 format.