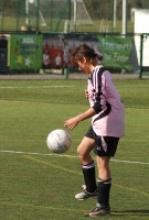 About 180 pupils from schools in Southampton and Hampshire met for a day-long tournament of football and French-inspired activities at the University of Southampton's Wide Lane sports ground. They competed in French-themed quizzes, artwork contests and cheerleading - along with a football tournament. Modern Languages staff and students were on hand to referee the games in French and involve participants in a range of language learning activities off the pitch.
The pupils were just some of the eight hundred in Key Stage 3 that had been studying French in class for 10 weeks using a programme of football-related resources called Score in French devised by Dr Ian McCall, in collaboration with Southampton FC. The extensive resource pack includes videos focussing on Saints French footballers Romain Gasmi and Morgan Schneiderlin, as well as a host of other football-related language activities.
Score in French is just one of several Routes into Languages projects being run by Modern Languages at Southampton.
Some video clips of the day are available:
To view the photos from the day click here