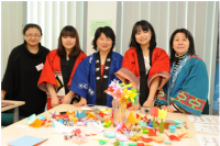 Leeds loves Languages!
School pupils from across the region gathered at Leeds Metropolitan University on 1st February 2013 to fuel their love of languages. The Leeds Loves Languages Festival, a joint venture with the University of Leeds, is now in its third year and aims to show the benefits and excitement in learning languages and exploring foreign cultures.
60 pupils from year 12 had the opportunity to engage with speakers of other languages alongside students and tutors from both universities. As well as taking part in conversation classes in languages they are already learning, students participated in taster sessions in lesser-taught languages such as Chinese, Japanese, Arabic, Italian and Russian and tried out activities such as origami and calligraphy. During the day pupils learnt about the experiences of current modern languages students and heard from employers about the value of languages in the workplace.
Students' feedback:
"Brillliant – loved the Year Abroad presentations and learning new languages"
"Thank you for running this event – very informative and fun – has given me a lot of confidence with my French"