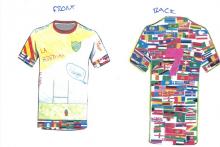 Could you design a sports kit or a water bottle for the Rugby World Cup using a foreign language element? Do you have the IT skills to make a video advert or business pitch to accompany your design?
These are the questions that were put to Year 7-11 pupils across in Yorkshire and The Humber on the unveiling of a new and innovative language competition. Launched on the European Day of Languages and to tie-in with the 2015 Rugby World Cup, a new competition was born to link together languages and design in a way never previously undertaken.
Pupils entering the competition in Years 7-9 were asked to submit a video advert of no more than 2 minutes with their sports kit or water bottle design. Those in Years 10-11 were required to submit a business pitch in the target language, demonstrating the benefits of their design. All languages were accepted as long as they were part of the school curriculum.
7 schools from across the region submitted multiple entries with colourful, creative and fun designs, along with excellent language elements in Spanish, French, German and Urdu. The video adverts and pitches were lively and entertaining and the pupils really sold their products. It was fantastic to see so many pupils of all abilities getting involved and producing high quality work. The competition definitely captured the imagination of boys as well as girls, partly due to the design and sport angle of the competition.
To see the winning designs, visit the Routes into Languages YouTube account and click on the Languages and Design Competition Playlist.
A prize giving event was held on 10th December at the University of Leeds. A list of all the winners are below:
Years 7-9 category:
1st prize – Olivia Courtney-Ashton and Georgia Pearson from the Grammar School at Leeds (Year 8 Spanish)
2nd prize – Group 1 -  La gourde géniale  - Leezza Faboro-Davidson, May Pickles and Lucy Spencer from Bradford Grammar (Year 8 French)
Joint 3rd prize – Ruby Branton & Mia Richardson from Beverley High (Year 9 French) and Daniel Ramos-Brown from the Grammar School at Leeds (Year 8 Spanish)
Years 10 and 11 category:
1st prize – Matthew Wilkinson from Wetherby High School (Year 10 German)
Special award for the school who submitted the most enterprising design and advert goes to Westborough High School with their Isotonic Water belt (in 3 languages!) 
Some of the winning schools featured their success on their websites:
http://www.w-h-s.org.uk/route-into-languages-competition-2015/
http://www.gsal.org.uk/linguists-are-champions-in-world-cup-themed-competition/