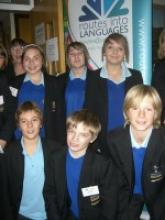 Wednesday 21st October saw 15 delightful year 8 pupils from Linton Village College descend on Routes East at Anglia Ruskin University. They were part of the Language Futures pilot project running at LVC. The pilot involves the pupils selecting the language they want to study with the school supporting them in their learning. There are 10 students studying Spanish, 4 studying Italian, and 1 each studying Mandarin Chinese, German and Portuguese (unfortunately 2 students were unwell and therefore unable to attend).
 
Wednesday's visit involved lunch in the University restaurant with Student Language Ambassadors, all native speakers of the languages being studied. It is hoped that these contacts will continue in the near future with a return visit to Linton where an e-mentoring programme will be launched. The pupils were then taken to a multimedia language laboratory where they were given a presentation on learning languages, introducing them to some recommended websites, including the excellent Why Study Language? (produced by LLAS) and Universed (produced by Routes into Languages North-East) sites (see powerpoint below). The Student Language Ambassadors provided support and guidance with all the activities.
The visit was much enjoyed by all and we look forward to working with Linton Village College on this exciting project.
(For photos see gallery)