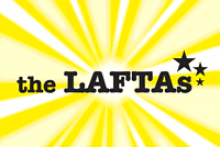 Thank you to everyone who sent in a film clip for the Languages and Film Talent Awards (LAFTAs) 2010. Languages Work received over 100 entries this year! The competition is now closed and the judging process will begin shortly.
Take a look at this year's entries on the LAFTAs YouTube page.
To enter the competition, budding film makers sent in their two-minute video clips showing why languages are important. Clips will be passed on to the regional judges and, finally, to our celebrity judging panel. Routes into Languages North West will be judging the entries for this region.
Videos will be shortlisted and finalists will be invited to a glamorous award ceremony in summer 2010. Who will be walking away with a LAFTA this year?
There are some fantastic prizes lined up this year, including trips to Spain, Germany and France.