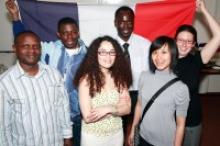 Around 60 Year 8 pupils visited Aston University
on 15th May to discover the French speaking nations of the world.
University staff and language assistants ran lively
workshops on their native countries and introduced pupils to the culture and
traditions of Quebec, Senegal,
the Democratic Republic of Congo, Tunisia
and South East Asia. The pupils then put what
they had learnt to the test by delivering their own presentations to the other
schools.
A handful of lucky participants took home prizes after
showing how much they knew about France
in an interactive voting quiz and Dr Graeme Hayes, of Aston
University, got the pupils thinking
about their perceptions of France
through his film focussed lecture.
One teacher from Moseley
School said: "The pupils
had to think, listen and analyse in ways which they might not have been used to
but they managed this and the feedback I received from the pupils was 100%
positive."