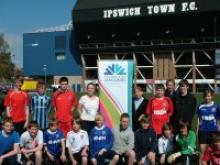 The latest Routes into Languages East project was launched on Thursday with a visit to Portman Road for 21 year 9 pupils and their teacher, Jenny Turner from Stowmarket High School.
The new project combines Football and German for the first regional replication of the Arsenal Football Club Double Club programme. Routes East commissioned the adaptation of materials for Ipswich Football Club and is working with the Ipswich Town Community Trust to deliver the course.
Originally created by Arsenal FC, the German Double Club programme works to use football as a way of encouraging students to learn German as an additional language and support them in their studies.
The launch of the Community Trust's German Double Club programme saw students from Stowmarket High School pull on their football boots and brush up on their German Language skills as they took part in a tour of the stadium taking in the VIP-Bereich (VIP area) and umkleider kabine (changing rooms) as well as a football-themed German lesson using the specially commissioned materials, and a mini football tournament at Portman Road.
Year nine pupil at Stowmarket High School Chris Alcock said: "This is an incredible experience to combine three things that I am really passionate about; football, Ipswich Town and German! It's really going to help me in my GCSE studies too.
Community Trust Double Club coach Darren Ablett added: "The afternoon was a real success. The youngsters seemed to enjoy themselves and learnt something at the same time as getting some exercise. This really is a great initiative."
Following discussions with Karl Pfeiffer of the Goethe Institute, Routes East made contact with Ipseich Town Community Trust to explore the possibility of replicating the highly successful Arsenal Double Club in the Eastern Region. Fortunately they were already involved in the Arsenal Double Club Maths and Literacy initiatives with local schools and were intrigues by the idea of extending their activities to languages.
Head of Modern Foreign Languages at Stowkmarket High, Hayley Frankland said "We are delighted to be a part of this partnership …. The students will be able to learn German in an exciting and innovative way which will undoubtedly help their confidence back in the classroom. It will also give students a real purpose to their foreign language studies and show them the benefits of knowing a foreign language." ""
During the launch on Thursday Jenny Turner told Linda Walker of BBC Suffolk Radio (to hear the broadcast click on the mp3 file below) that she saw in Double Club the potential to capture the imagination of pupils, particularly boys, who often find it difficult to engage with languages as she is always on the look-out to make languages relevant to her pupils.