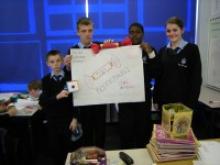 Cardinal Wiseman School, Coventry University and local Businesses teamed up to provide international activities for the Year 7 and Year 10 Flexible Learning Day on 25th November.
Coventry University Student Ambassadors from Romania, Japan, China, Italy, Germany and Brazil came along to Cardinal Wiseman to work with Groups of Year 10 students to design and market a cracker. Throughout the day the students were given a "whistlestop" tour of their country, looking particularly at its language, culture and customs.
Using all that new knowledge, the students' task was to design a cracker which would appeal to a target market in the country they had been studying. Each group then put together a poster presentation - including a prototype cracker. The students then had to pitch their product in a "Dragons Den" style, explaining how their product would be launched during a national festival, such as Chinese New Year, or carnival time in Rio or Venice, and showcasing their understanding of the business culture, as well as their new language skills.
We were very lucky to have "Dragons" in the form of local businessmen and women. Giving up their time to help out were Coventry Chamber of Commerce Staff: Malcolm Vaughan, Chistabell Amoakoh, Sue Woolnough, Emma Rynberk and Amrik Bhabra of (Adecs Profita) and Russ Pacey of Coventry CWCDA.
Mary Middleton (Director of Languages) said "I really enjoyed the day. The Coventry University Student Ambassadors were very well prepared and the Year 10 students worked hard to produce their crackers. Having the music and musical instruments was a bonus".
The students enjoyed the day commenting "It was very good, doing the presentations was very challenging, which I found interesting".
Microville
Meanwhile, Year 7 students took part in "Microville". In the first half of the activity students visited an imaginary French Town and acted out every day situations such as buying a postcard, visiting a museum, ordering food at a French café, booking a hotel room and even a visit to the zoo! As well as Cardinal Wiseman Teachers, native French speaking Coventry University Student Ambassadors acted out the role of hoteliers, shopkeepers and police officers. The second half of the activity involved the Year 7 students building and decorating their own mini French town out of cardboard. The towns were all labelled in French.
The aim of the activity was to encourage Year 7 students to participate in day to day conversation, as they would in everyday life in France.
Gayle Kimberley (Language Teacher) commented "It was a pleasure to work with the Year 7 students and our visiting students from Coventry University. We had a fantastic day and it was encouraging to hear our students really trying their best to make themselves understood in French".