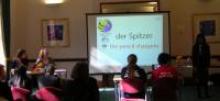 114 Year 7 pupils from 29 schools across Yorkshire and the Humber made their way to the Regional Final of the Routes into Languages Foreign Language Spelling Bee on 13th March 2014.
The event was hosted at the University of Hull and was a fantastic celebration of language learning. Stuart Whittingham, Acting Project Manager for Routes into Languages Yorkshire and the Humber commented: "it is amazing to see such enthusiasm and excitement for languages from these children!"
Gaining a place in the Regional Final had already taken a lot of commitment and hard work. Heats had been held within individual classes, followed by a competition to find the best four spellers in each school. One teacher remarked that "It has been great for raising the profile of languages within school and motivating all our Year 7s who took part in the earlier rounds, particularly the boys."
The top four participants in each language qualified for the National Final later in the year. Everyone in the Yorkshire and the Humber region wishes the best of luck to all those who have made it through to the next stage!