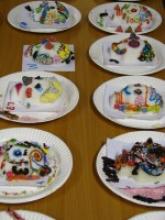 On Monday 2nd November the University of Portsmouth hosted a Day of the Dead themed event to promote the continuation of study within the Spanish language, through activities and festivities associated with the traditional Mexican celebration el dia de los muertos, which falls on this date.
A total of five local schools, Miltoncross, Mayfield, Cowplain Community, City of Portsmouth Boys and City of Portsmouth Girls, attended during the afternoon to receive a presentation and vocabulary session led by our current Undergraduate students who are taking Spanish or degrees such as applied languages. The 40 year 9 students embraced the opportunity to practice their pronunciation and learn about the Mexican culture.
All students then also took part in decorating a sugar skull and making a Day of the Dead style mask, such as a skeleton or devil design. We then ended the session with a fiesta style party where pupils appreciated the chance to taste some Mexican food, enjoy some authentic Spanish music and parade their competitive nature in attempts to destroy our piñatas and win treats. Prizes were also awarded for winning games and creating the best sugar skull or mask. All those who took part appeared to enjoy all parts of the afternoon. We had a range of abilities within the group as different schools had been studying from varying ages or year groups within their school, however all participants worked together well and managed to grasp the vocabulary by the end of the afternoon. Overall the event was a great success, we hope to run more of these events in the future to continue raising awareness of the importance of studying a language.