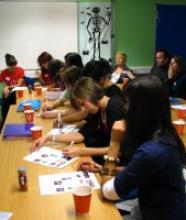 A Level Spanish students were invited to the University of Brighton to take part in an event celebrating the Mexican festival of el dia de los muertos (Day of the Dead) on Monday 2nd November.
The festivities began with everyone trying hot chocolate drinks flavoured with chilli powder, a traditional Mexican beverage for this time of year.  The visiting students used this time to speak with the Aimhigher/Routes into Languages undergraduate ambassadors about studying for languages degrees and life at university in general.
One of the university's Spanish lecturers, who is from Mexico City, gave a first-hand account of what happens during the festival.  She gave a very interesting presentation in Spanish and showed video footage of celebrations in Oaxaca.  This was followed by some Spanish language activities, which helped everyone to learn specific vocabulary related to el dia de los muertos.
Students were then invited to decorate sugar skulls, which is one of the main traditions associated with this festival.  Ingredients such as icing, chocolate and various sweets were used to create some fantastic decorations and prizes were awarded for the three best skulls.
The evening was rounded off by enjoying some typical Mexican foods, including chilli chocolate as well as cucumber with chilli and lime - which was delicious!
The students reported that they had had a lot of fun and had learnt a lot of interesting facts.  Accompanying teachers also enjoyed the event and were pleased with the cultural information provided.
Photographs of the event can be found here.
Routes into Languages South and the University of Brighton would like to thank Aimhigher Sussex for their support with this event.