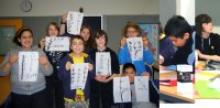 Students on CULP4SC programmes have the opportunity to consolidate and extend their language learning during Intensive days either at their school or at one of the partner universities. Students from Parkside Federation experienced two such days
at Cambridge University Language Centre and enjoyed a busy and engaging schedule. They talked about traditional Chinese festivals, Twelve Animal Signs, and Chinese tea.
Two of them did a puppet show to tell the story of 'Nian (meaning 'year')', and they explained why Chinese people like to wear red, play fireworks, and light lanterns around the Spring Festival.
Students learnt to make wishes in Chinese and then designed Chinese New Year cards with wishes on them.
They tried their hand at calligraphyand wrote Chinese idioms such as 'Reading is profitable.' Some chose 'Where there is a will, there is a way', and some others chose 'Knowledge and power.' They also drew bamboos as decoration. They did REALLY well!
In addition, as the Intensive Day was also the last day of the year of Ox, and with satellite TV in the Language Centre and the seven-hour time difference between UK and China, students watched the national celebration of the beginning of the year of Tiger in China on live TV!
Diana Liu who has been teaching this group says:
'It is great fun to teach these students. They are clever and friendly; each one contributes to the class in their own way. They have various motivations and are eager to learn and so with the right activities it is easy to create an interesting lesson and keep students engaged. When I give them assignments, which lets them do research on their own and use creativity, their work always gives me a good surprise. I'm glad to know that quite a few want to continue next year. One is attending a Summer School in China this summer.'
 
For more photos see http://www.flickr.com/photos/routesintolanguages/sets/72157624587185618/