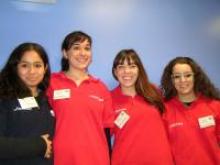 Several schools in Yorkshire and the Humber have benefited from regular visits from Student Language Ambassadors.
The ambassadors, some native speakers, others UK languages students have been able to help out in language classes by giving extra support to pupils.
They have also been well-placed to talk about their experiences in the countries where the language is spoken. Native speakers can provide invaluable input into topics such as the school system in their home country and can be a more flexible alternative to pre-recorded listening, or pronunciation exercises.
Languages students from the UK, on the other hand, can be great role models for pupils unsure of the benefits of studying languages. It can be an inspiration to hear how someone with a very similar background to them has been able to spend a year living in a foreign country.
Many of the ambassadors taking part in the scheme do so because they are interested in finding out more about teaching as a profession. As such, they are usually eager to make a good impression and to find out as much as possible about life in the classroom. Schools have commented that the ambassadors they have hosted have been motivated, well-prepared and positive role-models for their students.
If your school would be interested in having some support from a Student Language Ambassador, please contact routes@hull.ac.uk, or contact any of our partner institutions in the region.