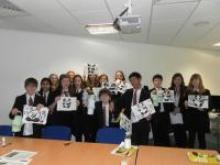 School pupils from across the region travelled to Sunderland University on Wednesday 5th February to welcome in the Year of the Horse by taking part in a Chinese Film Day.
The Year 8 pupils watched Not One Less, a film exploring the trials of a thirteen year old substitute teacher and her pupils in a remote mountain village, which challenged them to consider issues such as poverty, migration, urbanism and rural life.The rest of the afternoon was spent in workshops ranging from Chinese Language to Calligraphy. The chopstick challenge proved to be a particular highlight of the day!
In addition to languages staff at the University of Sunderland, the event was supported by four Chinese Student Ambassadors who were on hand to answer any questions the pupils had about Chinese language and culture.Feedback from the event was very positive and the day was enjoyed by all involved.