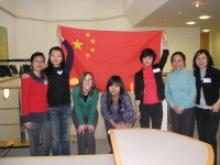 Throughout February and March, over 200 Year 8 pupils have
been to Aston University to take part in a series of cultural events aimed at broadening their
horizons and showing languages in the real world. Pupils attending the Chinese day were able to try out tai chi, calligraphy and language workshops as well as
joining in with Aston students to celebrate Chinese New Year. The Spanish,
French and German sessions were led by native speakers of countries as far and
wide as Mexico, Guadeloupe, Congo
and Austria
and pupils learnt about languages in a global context. Aston was also delighted to
have been able to showcase the Routes into Languages programme and the
University to a number of distinguished guests from the Goethe Institut, DAAD,
the Cervantes Institute and the Spanish and French Embassies.