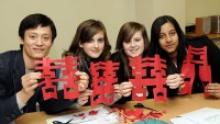 On Friday 8th
February, 85 youngsters from 5 West Midlands schools celebrated the start of
the Chinese New Year with Aston University's first Routes into Languages
cultural day.
The event was part of the
West Midlands Routes into Languages Consortium activities.
The Year 7 and 8 pupils took
part in a series of 'hands-on' workshops looking at Chinese language, culture,
traditions, arts and the New Year celebrations.
They also experienced a
practical Tai Chi session led by professional instructor Mark Peters of the
West Midlands based Kai Ming Association.
The event was the first in a
series of four themed cultural events led by Aston University this year.