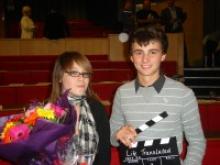 Approximately 60 students from Canterbury High School and Barton Court Grammar School worked together to write, produce and star in a multilingual film about teen life. With support from Canterbury Christ Church University as well as input from media and acting professionals, the students' hard work was reflected in their polished performances on screen.
Students, parents and staff all gathered to watch the film, entitled Life, Translated, for the first time last week. The evening began with a drinks reception, followed by the screening. Dr John Moss, Dean of Education at Canterbury Christ Church University opened the screening with a speech about the importance of languages, which was also echoed by the head master and deputy head master of both schools. Local radio presenter, Johnny Lewis, from KMFM was invited to award prizes for Best Actor and Actress and Best Supporting Actor and Actress.
The evening was a great success, with the imagination and collaboration shown by students and staff inspiring others to follow in their footsteps.
Johnny Lewis will also be interviewing some of the students who took part on his morning radio show on ">KMFM Thanet.