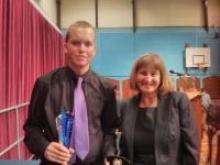 Eight young people from Launceston College were nominated for an award in languages at a very exciting evening of prize-giving and music on 12th November.
Those nominated for the Dr. Steve Wharton Award for Modern Foreign Languages were Carol Benfield and Marysia Matysik (both studying Spanish), Emma Platt (studying French and Spanish at AS level) and Agnieszka Wojtas who took French, Spanish and Polish at GCSE last year and won the award. 
The nominees for the Dr. Rosalind Leveridge Award for Modern Foreign Languages were Luke Clement, Alisha Johns and Abbie Davey for their hard work and achievements in Spanish. The winner was Josh Savage, a student "whose steely determination and unwavering dedication brought success against the odds". Josh worked through his lunch times and put in many hours of extra work after school to achieve success in his recent Spanish GCSE.
Congratulations are due to all the nominees and winners! It was a truly memorable evening for us all!
Dr. Rosalind Leveridge