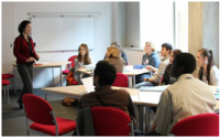 AS/A2 Oral exam confidence booster
Monday March 25th 2013
York St John University were very pleased to host 150 AS and A2 students of French, German and Spanish from all over Yorkshire for an event designed to boost their confidence in preparation for their oral exam.
The day started with a lively Keynote speech from Elaine Armstrong, associate headteacher at Joseph Rowntree School, AQA examiner and author of AQA French AS and A2 books. She combined advice about performing well in the oral exam, whichever exam board the students were following, with general tips on language learning and speaking. She spoke with humour and the students found the talk entertaining as well as informative.
We then broke into groups for language sessions. Depending on numbers in the various languages, AS and A2 students were taught together or separately. Sessions focussed mainly on skills and strategies (how to defend and justify your arguments, agreeing and contradicting, speaking at length and using connectors) as well as fluency and pronunciation.
Students were also given the opportunity to tour the campus with current York St John students, to get a flavour of life at university.
Comments from students included:
the German language session was the most helpful / relevant part of the day and could have been longer
very helpful, thanks!
would have preferred more exam advice in other parts such as the writing and the listening / reading paper, but I feel more confident on the speaking from this [YSJ comment: we had decided to focus on the oral exam as other universities offer more general revision days]
advice from an examiner was very useful
the classes to help boost oral confidence and the talk at the start was brilliant