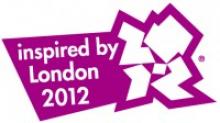 inspired sports projects combine language, culture, education, volunteering and business opportunities
Anglia Ruskin University Routes into Languages East Language and Sport and Active Languages events have been granted the London 2012 Inspire mark which recognises outstanding projects and events helping deliver the Olympic Games' lasting legacy.
Part of the London 2012 brand family, it is the badge of the wider Inspire programme which has sport at its heart and London at its centre but the message behind the campaign is more than just about London and sport. It is for London and the UK, for sport and culture, for education, volunteering and business opportunities.
Routes into Languages East ran its first Language and Sport Day jointly with Anglia Ruskin University's AimHigher Office, Youth Sport Trust and Health & Wellbeing Department which attracted over 80 year 8 pupils from seven schools in Essex. During the event, pupils tackled Capoeira (Brazilian acrobatic sport) in Portuguese, Wing Chun (martial arts) in Chinese, Handball in Spanish and Sitting Volleyball (a Paralympics sport) in German. The day gave pupils valuable insights into the importance of languages, the sports they tried and the language and cultures associated with them and life on a university campus.
A second project involved similar cross-curricular collaboration in an attempt to have a more long-term sustainable impact.
Active Languages Day was a joint event for teachers organised by Routes into Languages East and the Youth Sport Trust on the Anglia Ruskin University Chelmsford campus. Each school was invited to send a language teacher with a PE teacher to learn more about successful language and sports projects and how to integrate them into the school curriculum. The delegates had the opportunity to try out Capoeira in Portuguese and Tag Rugby in French. The ideas and skills that the teachers gained from the event will impact on over 1500 pupils per year.
Speaking about the benefits of the award, Sarah Schechter, Project Manager for Routes into Languages East at Anglia Ruskin University, said: 'The Inspire Mark puts Routes into Languages East and Anglia Ruskin University on the map of Olympic Games sports and languages support organisations throughout the UK. Languages and culture are vital to ensuring the success of the Games as well as achieving the aspirations of the Olympic legacy.'
310 outstanding non-commercial projects and events have been recognised with the London 2012 Inspire Mark highlighting activities covering sport, culture, education, sustainability and volunteering.