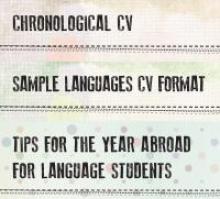 CREATING THE GLOBAL GRADUATE
Sell your language skills on your CV
 
A series of resources authored by Cardiff University in partnership with Routes into Languages Cymru to help students improve their employability prospects
We hear more and more in the media about the growing need for language skills in UK businesses. It is all too frequently assumed that if you're able to speak English, one of the main business languages of the world, it is then not necessary to learn any other languages. This of course is not the case, with so much in business based on trust and respect, taking an educated interest in the culture and language of fellow colleagues and business partners will help to secure relationships and build bridges thus fuelling trade.
 
Our new set of resources, authored by the Careers Department at Cardiff University and in partnership with Routes into Languages Cymru, includes a Sample Languages CV Format which will show how those studying languages or those who have language skills can present their skills and experiences in the most effective way possible. With a greater call for 'global graduates' the resources also include Tips for the Year Abroad for Language Students which will give ideas on how to make the best of time spent abroad and to continue to build on the CV whilst studying.
 
"With these new resources available to students" said Ani Saunders, Routes Cymru Project Manager and Coordinator "not only will they be encouraged to continue building on their skills which in turn will increase their employability, but they will also be made more awareness of how valuable and increasingly sought after their language skills are. Entering the competitive world of work is a daunting prospect but these new resources will ensure that graduates are better equipped for the future."
ENDS
Press enquiries to: Ani Saunders, Routes Cymru Project Manager and Coordinator, email:  ani.saunders@ciltcymru.org.uk, tel: 029 2026 5408
Interviews with Ceri James, Director of Routes Cymru are available on request from Ani Saunders.
Routes into Languages Cymru website: www.routesintolanguages.ac.uk/cymru
 
Notes for editors:
The Routes into Languages programme was developed by three organisations working in partnership: the University Council of Modern Languages (UCML), the HE Academy Subject Centre for Languages, Linguistics and Area Studies (LLAS) and CILT, the National Centre for Languages. The Routes into Languages programme is coordinated by a team at the University of Southampton, directed by Professor Michael Kelly. http://www.routesintolanguages.ac.uk/

 

Routes into Languages Cymru is funded by the Higher Education Funding Council for Wales (HEFCW) and the Welsh Joint Education Committee (WJEC).
Led by CILT Cymru in partnership with 9 universities across Wales, the specific aim of the Routes into Languages Cymru project is to increase the take up of languages from school to university. It encourages young people to have a positive attitude towards their language learning and promotes languages as an essential skill.

 

CILT Cymru is funded by the Welsh Government and is managed by WJEC.