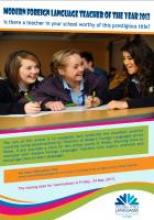 Routes into Languages Cymru, in partnership with CILT Cymru, are for the first time this year running awards for teachers of Modern Foreign Languages.
We work very closely with schools and colleges, and are already aware of the wealth of innovative and enthusiastic teachers currently teaching languages in Wales and we are very excited to have the opportunity to recognise this through our awards. We hope that these awards will also raise the profile of teaching languages, encouraging more people to seriously consider this vocation. Finally, these awards will provide an opportunity for pupils and students to commend the inspirational work of their language teachers.
There will be four categories:
MFL Teacher of the Year 2013                      
Primary MFL Teacher of the Year 2013        
Most Promising Trainee MFL Teacher 2013 
Most Inspiring MFL PGCE Mentor 2013        
Each category has its own criteria, nomination and judging process. (More information)
The closing date for nominations is Friday, 24 May 2013.
All winners will be informed by 25 June and will be invited to collect their awards at the CILT Cymru conference in Llandrindod Wells on 2 July 2013.